To All suppliers of reports
Please be aware, some reports have been sold on months after the date of inspection. This practice can significantly increase the risk to both the Inspector and the insurer. The purchaser may not be aware of the relevance of the age of the report until a problem arises after the purchase.
Important
you Must supply documents to prove you are
Licenced,
Public Liability and preffesional Indemnity Certificates with Insurers details and amount of cover
ABN,
You will not be able to post reports online without the above details and our staff having confirmed the documents.
Each inspection and report relates directly to the day the inspection was carried out. The greater the length of time the report is relied on after this inspection date, the risk that the property is not as it was when inspected increases significantly.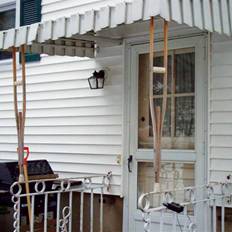 Improvised solutions (as above) may be undertaken when problems occur after your inspection.
We acknowledge that the inspector's client should have reasonable time to consider the report prior to making a binding decision to purchase the inspected premises.
In order to help limit the impact of this practice we insist the following statement is on all inspection Reports.:
Note: This report should not be relied upon if the contract for sale becomes binding more than 30 days after the date of initial inspection. A re-inspection after this time is essential.
Our firm recommends an new inspection for every person and property prior to sale
Please ensure the above statement is on the front page of your report with or near the date of the inspection. Most insurers have this in place already (please check)
Please ensure your public liability and professional liability covers you for the on sale of reports, it is recommended that all inspection reports contain information to the prospective client stating
This report and its contents (excluding personal details) may or may not be resold to other parties, institutions and government bodies.
If you have any inquiry concerning the above please contact our Technical Department